24 May

The Power of Diapers to Connect the Dots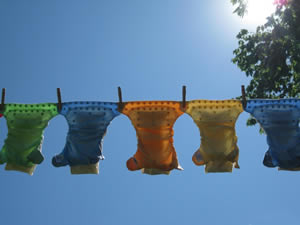 It was 3 a.m., and I sat straight up in bed awakened by a cry. It was my son, my only child at the time. I went into the room to get him. I knew the sound of agitation in his cry. In fact, I am still astonished at how much nuance there is in a cry. As I went to put him back down to sleep, I checked his diaper as I typically did to ensure he was also clean and dry. His diaper definitely needed changing! This is a normal experience we imagine almost every new mom and/or dad has.
I've been surprised over the years in my work at how many things that seem so common are actually complex for vulnerable families and children. I was heartbroken to learn a few years ago how a simple diaper change is complex for some parents. I grieve in some ways the loss of this simple and straightforward moment of comfort for some parents with their children.
There are over 46 million people living in poverty in the U.S. according to the U.S. census. This is 1 in every 7 person in our country, around 15 percent. It was shocking to discover that the vast majority of parents today are making really tough choices. This could mean choosing between school supplies and school clothes, or food and diapers. The things that weigh in the balance are astounding.
One of our site managers in at our World Vision facility in Fife commented that diapers are one of the most highly requested and least donated items. The need greatly outstrips donations, and the challenge is only getting worse.
This is made more complex by the fact that for many living at or below the poverty line, of whom the majority are working, essentials like diapers aren't covered by assistance programs. Cloth diapers are certainly a less expensive and an environmentally friendly option. Unfortunately, many parents work, and therefore have their children in daycare programs that don't allow cloth diapers for sanitary (and I'm sure efficiency) reasons. The result is many parents keep their children in diapers for an extended period to reduce what they spend on them, and to allow them to pay for other necessities. We've all seen the image of the child with the full diaper. As a mom who could provide the six to 10 diapers per day that my children needed without worry, I can't imagine the pain of a mom who can't do this. What does it feel like to go to your child in the middle of the day or night and realize you can't change them yet because you need to stretch the use of the diaper?
The risk of diaper rash and other hygiene-related issues is obvious. Even worse, studies have found that children who are left in soiled diapers have higher incidences of abuse and neglect. The child experiencing discomfort is just more irritable. The family environment may be more stressed due to limited resources. One can only imagine that moment when a parent inappropriately responds to a child by shaking or other means unaware that the child is simply irritated by a soiled diaper, or by a rash resulting from a prolonged period in a diaper.
Babies and little children are our most vulnerable members of society. I learned that the material in diapers that causes them to be absorbent is made from tree pulps because of a partnership between World Vision and Weyerhaeuser. Weyerhaeuser instituted an annual diaper drive and provides them to World Vision to support the needs of parents with young children. I hope that many companies will follow Weyerhaeuser's example and take on a diaper drive to help meet the needs of families.
Families are facing historic economic challenges. In these tough times, many are doing all they can. We have an opportunity to help them do all they truly want to do for their children, and support our country becoming a nation of healthy and vibrant children.
I was excited and deeply humbled to meet Antoinette, a 20-year-old mom, served by one of our partners. She was a bright young woman who had admittedly made some choices that hadn't served her and her young daughter, Myah, as well as she had hoped. However, she was in a young parents program to gain the skills she needed to be a better mom. I enjoyed a brief conversation with her and was impressed with her desire to overcome the challenges she faced and to provide a better foundation for her daughter. As I was leaving she said, "Man, I needed those products. I didn't know any better and Myah would go all night in a soiled diaper. Those things are expensive. I just want to say thank you because I am a better mom because I can provide for my child."
What a beautiful moment! I spend a great deal of my time working on and pursuing large scale and systemic interventions. Sometimes, this can be seen separately from the impact on an individual life. In this moment, I saw the work of a major corporation connected to work of partnering nonprofits impacting the life of a little girl by helping her mom parent well. In a world of complex problems and big challenges, my encouragement is that we recognize it is not an either-or world. We don't have to choose between working for systemic and individual change. We just need to connect the dots.